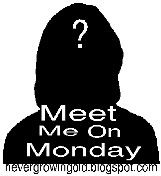 Meet Me On Monday
is a blogging meme hosted by
Never Growing Old
, as she says: "Blogging is a funny thing...we tell our most intimate thoughts for all to read and yet most of the time I find myself sitting and wondering, "who is this person!?" I know them...but yet I don't know them! I want to know who the person is behind all those words so I thought of a great way for all of us to "meet" each other!"
Every Sunday she will post five get to know you questions that we can copy and paste into our own Monday post and we can all learn a little more about each and every one of us!!"
To play along click on her meme and join up with the linky.
Questions:
1. Do your pants get hung on a hangar or folded?
MY DRESS PANTS GET HUNG UP (MOST OF THE TIME) BUT MAINLY I FOLD THEM.
2. If you are stranded on an Island, what 3 things would you need to have with you (not including humans or electronic devices)?
WATER, MY COPY OF WIZARD OF OZ (CAN READ THAT BOOK OVER AND OVER), BLANKET (CAN NOT SLEEP WITHOUT A BLANKET)
3. Where is the farthest you have ever traveled to?
PALMER, ALASKA
4. Do you live in a house, trailer or apartment, etc.?
WE HAVE A 4 BEDROOM HOUSE IN TOWN
5. What is your most hated household chore?
WASHING DISHES (MY HUSBAND IS THE GREATEST, HE DOES ALL THE DISHES!)