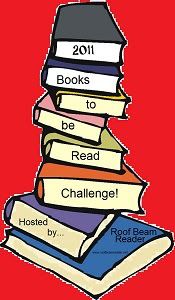 Adam over at
Roof Beam Reader
is hosting a challenge in 2011 using our long-standing tbr piles.
The Goal:
To finally read 12 books from your "to be read" pile, within 12 months.

Specifics:
1. Each of these 12 books must have been on your bookshelf or "To Be Read" list for AT LEAST one full year. This means the book cannot have a publication date of 1/1/2010 or later (any book published in the year 2009 or earlier qualifies, as long as it has been on your TBR pile - I WILL be checking publication dates). Caveat: Two (2) alternates are allowed, just in case one or two of the books end up in the "can't get through" pile.
Here's the books I have chosen:
1.
Quicksand
by Iris Johansen
2.
In The Event of My Death
by Carlene Thompson
3.
Haunted
by Heather Graham
4.
Covenant with the Vampire: The Diaries of the Family Dracul
by Jeanne Kalogridis
5.
Deep Midnight
by Shannon Drake
6.
Kiss Mommy Goodbye
by Joy Fielding
7.
House of Blood
by Bryan Smith
8.
Bitter Harvest
by James Corcoran
9.
Possessions by
James A. Moore
10.
Mirror Mirror
by Gregory Maguire
11.
Frankenstein (Prodigal Son, Bk 1)
by Dean Koontz
12.
Daughter of Fortune
by Isabel Allende
Alternates:
1.
A Lion Among Men (The Wicked Years, Vol. 3)
by Gregory Maguire
2.
Tainted Blood
by Mary Ann Mitchell