Let's welcome one of my favorite Urban Fantasy authors, Jennifer Estep, to my blog today! She is going to be talking about one of my favorite subjects...FOOD! There also be a giveaway for her newest release in the Elemental Assassin series, Spider's Revenge. My review can be found HERE.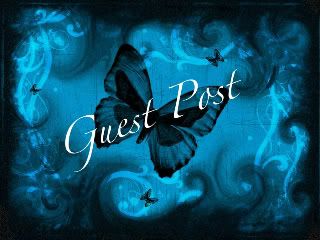 Greetings and salutations! First of all, I want to say thanks to Kelsey for having me on the blog today. Thanks so much, Kelsey!
So today, Kelsey asked me to write about food, since it's part of my Elemental Assassin urban fantasy series. The books focus on Gin Blanco, an assas­sin code­named the Spi­der who can con­trol the ele­ments of Ice and Stone. When she's not busy killing peo­ple and right­ing wrongs, Gin runs a bar­be­cue restau­rant called the Pork Pit in the fic­tional South­ern metrop­o­lis of Ash­land.
When your heroine runs a restaurant, it's sort of inevitable that you'll talk about food in your books. A lot of scenes in the series take place at the restaurant, so Gin is always dishing up some sort of food there, either to her friends, customers, or even her enemies. But cooking happens to be one of Gin's hobbies, in addition to being her day job, so she also cooks outside of the restaurant, often whipping up dishes for her friends and family while she's plotting how to take down the latest bad guy that's crossed her path.
So why do I write about food so much? Because I enjoy it – simple as that. I love to eat, and I have a major weakness when it comes to things like dark chocolate, cheese fries, mac and cheese, potato chips, fried chicken … Okay, so I just have a weakness for food in general, most of which is probably not very good for me. LOL.
My mom loves to cook, and it's something that I've gotten more and more interested in over the years because of her. Not too long ago, I got my grandmother to show me how to make cornbread. Now, I even have my own small cornbread skillet.
Whenever I write a scene that involves food, I always try to make the food sound as yummy, delicious, and appetizing as possible. Most of the dishes exist only in my imagination (like Fletcher Lane's secret barbecue sauce), while others are just things that I think would be scrumptious to eat. I just try to have fun with the descriptions and make them really vibrant and colorful.
The food talk seems to be popular with readers. I've gotten a lot of nice comments about how the scenes make some folks hungry, which I think is really cool. You always want folks to enjoy your work, and I think the food talk adds another level of flavor (excuse the bad pun) to the books.
What about you guys? Do you like food talk in books? Why or why not?
USA Today bestselling author Jennifer Estep writes the Elemental Assassin series for Pocket Books. Books in the series are Spider's Bite, Web of Lies, Venom, and Tangled Threads. Spider's Revenge, the fifth book in the series, will be released on Sept. 27.
Jennifer also writes the Mythos Academy young adult urban fantasy series for Kensington. Touch of Frost, the first book in the series, was released in August. First Frost, a prequel e-story to the series, is available as a 99-cent download. Kiss of Frost, the second book, will be released Nov. 29.
GIVEAWAY
Jennifer is graciously giving away a copy of SPIDER'S REVENGE to one lucky commenter. Giveaway is open to US Residents only. To enter the giveaway just answer the question Do you like food talk in books? Why or why not? and fill out the Rafflecopter form below. You do not have to be a blog follower to enter, but it would be nice! Giveaway is open until October 4, 2011 @ midnight CST. If I do not hear from the winner within 48 hours of contacting them I will have to pick a new one winner.